Materialermüdungen und Stentbrüche: Ein relevantes Problem?
38 Views
Ein Leser fragte: "Es wäre interessant etwas über die Langzeithaltbarkeit von Stents zu erfahren. Stentbrüche und Materialermüdung scheinen keine Seltenheit zu sein." Wir haben auf dem ESC einem Experten diese Frage gestellt.
More on this subject
Documents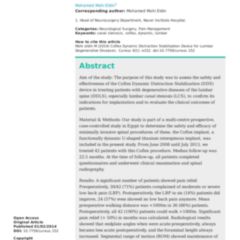 Upload recordings from operations, lectures, interviews or other medical videos and share it with your colleagues.
Uploaded by